Have you ever wanted to own your own castle? Well, it turns out that you don't have to be a medieval lord or lady to make your dream a reality. There are plenty of castles, mansions, and fortresses around the US that are up for sale right now.
If you're like us, watching HBO's 'House of the Dragon' has really got you in the mood to own a piece of a fairy tale estate. So, if you've got a few million dollars burning a hole in your pocket, check out some of the swankiest castles, mansions, and manors that you can buy in the United States right now.
---
#1 2821 Sauls Street, South Daytona, FL – $995,000
Keeping on theme with TV show fantasies, we 'Better Call this Sauls Street' property at the top of the list for obvious reasons. This is an unfinished castle being built right in the heart of South Daytona, and what a sight to behold. While it's still a little rough around the edges, it presents an ample opportunity for the right buyer to come in and finish it off to their liking.
Contact the Listing Agent
Nancy Cortez – Adams, Cameron & Co.
See reviews from Nancy's Clients
Sitting on a 1.72-acre lot in the Dunlawton subdivision, the 2-story castle itself covers around 9,000 square feet. There are seven bedrooms, six full bathrooms plus 1 partial bath, a stone fence, and an exquisite fountain adorning the ample front yard. With over 1,200 sqft of outdoor patios and oak trees that have lived on the property for more than 200 years, this property truly is a piece of Florida history come to life.
Meet Other Adams, Cameron & Co. Agents on FastExpert
---
#2 89405 Jack Pine Rd, Cornucopia, WI – $2,990,000
Currently operating as a B&B, the modest appearance of the front entrance of this property belies the true scale of the estate. Once inside, you'll find a grand entry hall with a sweeping staircase, luxurious living spaces, and ample room to relax. Featuring 8 bedrooms, and 6 full bathrooms, this 8,000 sqft mansion offers breathtaking views of Siskiwit Bay from just about any room.
Other amenities of this sprawling 5.88-acre estate include 5 suites, an exercise room, RV parking, and so much more. A thriving town with a rich history, Cornucopia, WI boasts a stable real estate market, and the median home value in the area is $193,100. So, if you're looking for an investment opportunity that will appreciate over time, this could be a good option for you.
---
#3 260 Eshelman Road Lancaster, PA – $2,495,000
Featuring 7 bedrooms, 5 full baths, and a hearty 7.8-acre lot, this Eshelman Road manor is fit for a king or queen. The property includes an in-ground pool, private gym, impressive stone patios, and even views of the Conestoga River.
Contact the Listing Agent
Anne Lusk – Lusk & Associates Sotheby's International Realty
See reviews from Anne's Clients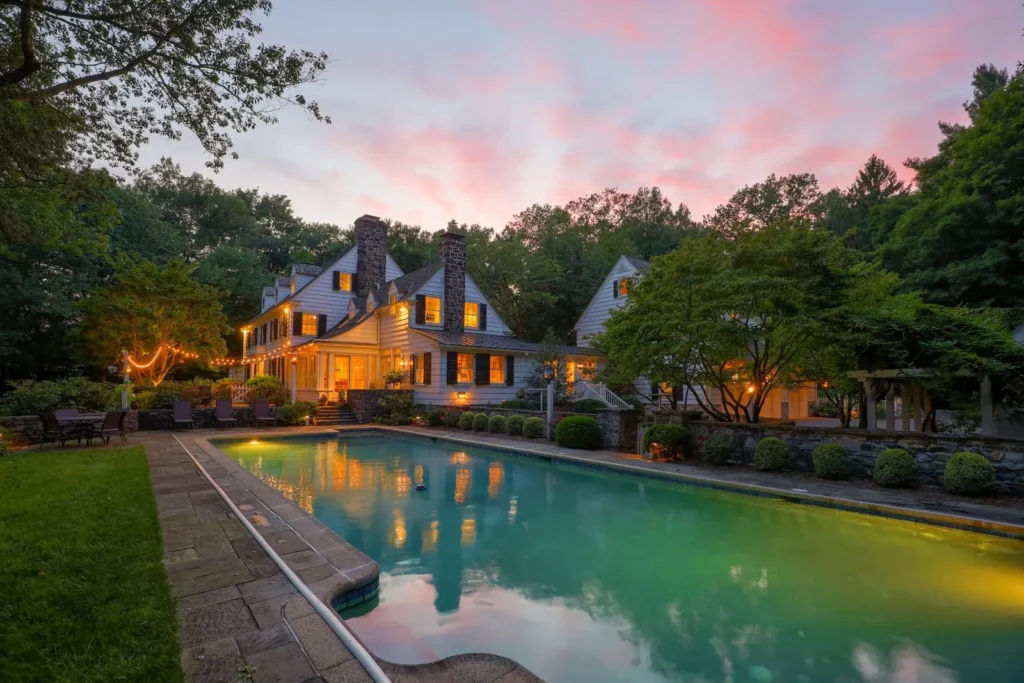 This amazing home stands as a giant among the rest with the average local home price being around $550,000k. Built in 1925, the classic architecture offers quaint sophistication and old-world style that is hard to come by in new builds.
---
#4 80 School House Road Lancaster, PA – $2,495,000
Featuring an impressive 10 bedrooms, 7 full baths, and 10,000+ sqft spread over 4-stories of living space, Wyngate Manor is a true masterpiece. The property includes an elevator, marble floors, stained glass windows, a 6-car garage, and even comes with its own separate rental home to help cover the costs of the manor.
Contact the Listing Agent
Anne Lusk – Lusk & Associates Sotheby's International Realty
See reviews from Anne's Clients
Wyngate Manor was built in 1973 and has been meticulously maintained by its current owners. If you're looking for a luxurious castle to call your own, Wyngate Manor should definitely be at the top of your list.
---
#5 119 Private Road 1820 Rd, Clifton, TX – $6,500,000
While this property was recently removed from the market, we felt it should still get a little attention. 11,500 sqft of space in this literal castle. The big problem with this gorgeous property is it is technically not a home. It operates as an event venue, hosting international dignitaries, royalty, and celebrities. If you're looking to get into the event business, this could be a great property for you.
Contact the Prior Listing Agent
Amber Dorsey – eXp Realty in North Texas
See reviews from Amber's Clients
There is a 3rd-floor penthouse for the owner to occupy, but other than that, the property would be primarily used as an event space. It comes with all the amenities you would expect from a venue of this caliber including a full commercial kitchen, 10 bedrooms for overnight guests, 14 bathrooms, bridal suites, an elevator, and so much more!
---
#6 1314 Dug Hill Rd, Brownsboro, AL – $2,390,000
With its 7 bedrooms and 8 bathrooms, situated on 12.09 acres, this manor house has plenty of room for your family, friends, and all the dragons you can hatch. Plus, it comes with 3 kitchens, a four-car garage, and a workshop.
Contact the Listing Agent
Amanda Howard – Sotheby's International Realty
See reviews from Amanda's Clients
If you're looking for a bargain, this might not be the place for you. But, if you're looking for a bit of Southern charm and a whole lot of space, then this is the perfect property for you.
---
Looking for Your Next Dream Home?
Let FastExpert Help!
Even if you can't afford one of these amazing properties, FastExpert can help you find your perfect home. We have a network of over 50,000 top-rated real estate agents across the country who are ready to help you find your dream home.
Our simple, free service will connect you with agents in your area so that you can compare their experience, services, and customer reviews. FastExpert helps take the guesswork out of finding a great real estate agent, so that you can focus on finding your perfect home.
Get started today and find your dream home with FastExpert!