One of the fun parts of designing a post-frame building is deciding which interior and exterior features you want to incorporate.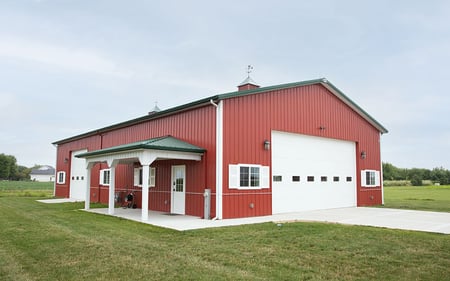 So we sat down with a few of our FBi Project Sales Consultants to get their opinion. They've helped hundreds of clients build their dream pole barns, and we want to share what they've seen and learned.
To ensure you know all the best tips for building design, we will review the following:
Tips for a

good foundation

that add long

evity
Esthetic options that give your post-frame building that edge yet still timeless
Free resources to learn more about pole barn features
As you read below, we review the favorite building features from our sales team. However, there are so many great options you can incorporate into your pole barn design. Download this FREE Building Features Guidebook to see which ones stand out to you!
1. Let's Start with Structural Integrity
During our Podcast Episode 1, we asked Jimmy Terry, "What is one feature you would never build a building without, and why?" His response was direct and straightforward, a good foundation. So here are some building features you can choose to help accomplish this:
Laminated Columns


Treated 2×6 or 2×8 boards are fused together to create the posts that the

trusses

of the building rest on. Treating the wood helps protect against moisture so they don't

deteriorate over time

.



Perma-Column

System


A concrete post with a rebar cage goes into the ground and connects to your laminated column above the ground (shown right). This option will add value and never rot.
Kynar® 500 Paint on your Steel Panels




This coating feature is durable with an extremely slow fading timeline. The truth is that all paints fade when dealing with the elements and being in direct sun at all times. The main difference with Kynar is that the fading timeline is a much longer and slower process than other brands

. Therefore, in 20-30 years, your post-frame building will still look brand new.



Kynar's quality control and color consistency are second to none.  This ensures that any time you add new

steel

to

your building, whether you are adding to the size of your building or replacing any damaged panels, the new steel will match the old steel.

To learn more about how post-frame construction and maximizing your building investment, download our FREE "Structural Integrity in Post-Frame Construction" e-book.
2. Design a Pole Barn You Love to Look At


During that same podcast, Josh DePew dives into the esthetics of building design and what features he's seen that have led to a sharp-looking final result. 
His recommendations include the following: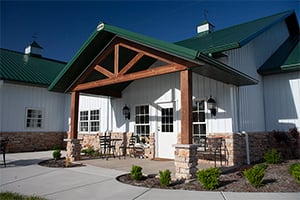 Porches




A porch is a great way to add personality and make your pole building stand out from other post-frame barns in your area. Options include a classic front porch, a recessed porch, or the long time favorite, a wrap-around porch. Check out the

5 Types of Pole Barn Porches article

to help you decide which one is right for you!

Porch Ceiling
Finishing the ceiling of your porch might seem like a small detail but it makes a big impact. You can go with a simple open look which is called a non-soffit porch ceiling. This affordable option appeals more to the industrial crowd that likes an "all-natural" look.

Or for a little more money, you can add a soffit to your porch ceiling. This option

looks great and plays a vital role in proper pole barn ventilation

. The soffit can be made from the following materials:
Aluminum

Steel

Vinyl

Wood
Overhangs
This feature helps with ventilation by increasing airflow under the roof steel and preventing condensation. It also just looks nice. It transforms the building from looking like a box to a finished structure that adds visual value to your property overall.
Wainscoting


A three or four-foot strip of steel along the exterior base of your building is a great affordable way to

add more color and contrast to your building. 

An added benefit of added wainscot on your building is that if you accidentally bump your building with a tractor or RV, you must replace that three- or four-foot strip instead of the entire panel.

So if you invest in wainscoting when you build your pole building, it could make repairs down the road less costly.  

Check out our Podcast Episode 1 to learn more about the above features!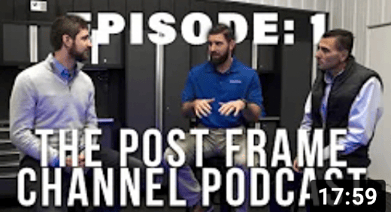 2. Take a Deeper Dive

We recommend taking the time to learn more about all the options available for your new building. You don't want to wish you knew about that one specific detail that would have made a major difference on your pole barn five years later.
We've taken the time to put together these FREE and helpful resources (links below), so you can learn all the ins and outs of building design so you have a barn that you will love for years to come.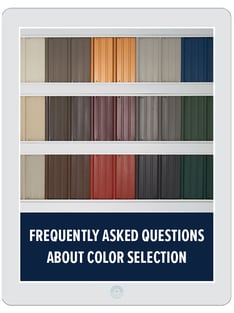 Ag Features Guidebook
This guidebook gives each feature's price range, product specs, and pros and cons.
Frequently Asked Questions about Color Selection
Here we give you insight into choosing your pole barn colors and provide popular color combinations for you to consider
Suburban Brochure
Design inspiration if you're looking to build

a

barndominium

,

hobby shop

, or

garage.



Are You Ready to Design Your Pole Barn? 
Building a pole barn is a big decision. But, arguably, a bigger decision is how to design your pole barn. 
We encourage you to get the ball rolling by using our design online tool to bring your ideas to life, then submit the design to our sales team and receive a free quote!
After all, a pole barn is a big investment, and it's our job to ensure that you are aware of all of the features available before making a final decision on your building design.