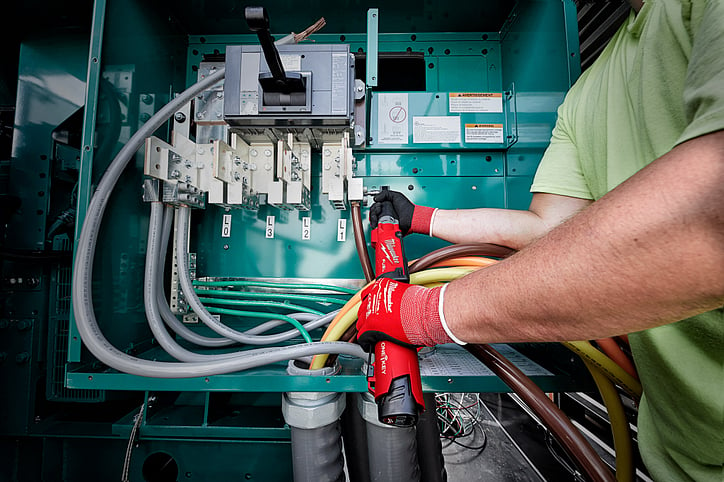 When you're at the outset of your construction career, then you may be looking to start learn without committing to a full-time training program.
Getting educated is one of the most important and yet most intimidating first steps you need to take when launching a new career. This is true of any field but uniquely so for the skilled trades, which are at an informational disadvantage in comparison to many other career tracks.   
Think about it: You can probably rattle at least one or two prominent law schools or medical universities off the top of your head and get nothing but crickets when trying to name a single vocational college. 
Our society tends to stigmatize the skilled trades, pushing the myth that white-collar careers are somehow more respectable and lucrative than working class jobs.   
As a result, it can be extremely difficult to even know where to start for someone interested in learning how to become a carpenter or electrician; both of which (spoiler alert) are incredibly useful, lucrative, and rewarding careers. 
We've previously written a lot about the many exciting careers in construction worthy of pursuing.  
Today's article covers skilled trades certifications, how one can affordably attain hands-on skills prior to or in concert with those skills you'll hone in trade school or through an invaluable apprenticeship.  
Disclaimer: To clarify, the resources discussed herein are intended for informational purposes, as they be useful to supplement trade skills education and acquisition. We, however, highly encourage apprenticeship education. Information about apprenticeships can be accessed through local state government websites (for example, there are resources on apprenticeships that exist in Wisconsin). Trade school education is also advocated if it makes sense for your situation (reputable online trade schools do exist), while trades meetup group online are available for networking, and above all, trade associations (e.g., NECA, AGC, ABC, SMACNA, etc.) provide membership that deliver invaluable education, training, and professional development. 
With that out of the way, let's discuss 3 affordable and easy-to-use online educational tools that can help you start learning from your desktop or laptop computer right now.
What are the Benefits of a Career in the Skilled Trades?
While each path is different, every career in the skilled trades has some key selling points in common.  
Here are a couple great benefits of a career in the skilled trades: 
The pay is good
Let's be real: We work to get paid. Life isn't getting any cheaper and the fact is that you need to earn a certain amount to survive and thrive in this world.  
A lifetime of societal messaging would have us believe that working as a plumber or electrician isn't as lucrative as the kinds of jobs a college education can provide, but 
it turns out that this attitude is way off the mark. 
According to the Bureau of Labor Statistics, many people who work in construction and the skilled trades can expect to earn an average annual salary of $48,210, which is about 5% higher than the average annual salary of $45,760 for all other occupations.

You can also secure higher starting wages or gradually boost your earning potential depending on the job and your level of experience.   
For example, a general contractor can climb from an annual salary of about $57,000 to upwards of $100,000 in certain job markets. Meanwhile, a construction manager's salary can fall anywhere within the range of $56,000 to $165,000 per year. 
Bring this back around to the subject at hand: your level of education plays a significant role in how much you can earn. For instance, an apprentice electrician can expect to earn about $18 per hour while a master electrician earns roughly $32 per hour.  
Lots of jobs opportunities
Construction is notorious for its long-running labor shortage. COVID-19 certainly hasn't helped but the truth is that construction worker shortages have been an issue long before the pandemic.  
The flip side to this reality is that there are lots of job opportunities out there for those who have the proper skills and training. 
Consider: This year alone, the construction industry has faced a workforce gap of nearly 650,000 positions, according to Associated Builders and Contractors, which estimates the workforce will need to grow by an additional 590,000 workers in 2023.  
That's more than a million jobs that need to be filled over the next couple years. Put another way: if you pursue a career in the skilled trades, odds are extremely high that you will get a good job with decent to high wages in the field you trained for. 
Education is affordable
Learning a skilled trade isn't free, but it's significantly cheaper than going to a traditional college or university. 
On average, you can expect to pay more than $10,000 a year in college tuition. Trade school, meanwhile, costs about $5,000 per year.  
That figure is still daunting until you recall that it's possible to complete a trade school degree in as little as 18 to 24 months in comparison to the standard four years it takes to complete college. Then factor in the fact that many apprenticeships are paid and the benefits of seeking a career in construction start to add up fast. 
3 Affordable Ways to

Begin

Learning the Skilled Trades Online
Plenty of trade schools nowadays offer degree programs that can be completed entirely online.  
But even if you're not ready to pursue a degree, there are still plenty of affordable courses out there that you can take one at a time to begin learning the skills you need to succeed in the world of construction. 
Granted, while none of the resources below are a substitute for an apprenticeship or degree from an accredited school, they can nevertheless serve as springboards from which to launch your career in the skilled trades.  
Best for hands-on certifications: Alison
Alison is an online education platform geared toward providing certifications and diplomas for practical workplace skills.  
Founded by Mike Feerick in 2007 in Galway, Ireland, the platform offers more than 4,000 free courses on a wide variety of subjects ranging from IT to healthcare. 
Alison also features 639 engineering and construction related courses that cover everything from the basics through carpentry courses and plumbing courses to wind turbine technician courses (the latter which is one of the fastest growing career fields in the US). Other standout subjects include general construction safety courses and shipbuilding courses(!). 
A major plus of Alison is its certifications and diplomas, which–while they don't count toward a degree–can add some serious oomph to your resume. 
All the courses on Alison are free, though certifications and diplomas come with a pricetag; anywhere between $20 to $129, depending on the course and style options you choose. 
In terms of time: Certification courses take roughly two to three hours to complete, while diploma courses take about eight to 10 hours. 
Alison accounts are free, but for $9 a month, you can choose to create a premium account that removes all advertisements from the site and provides discounts on certifications.  
Best for digital skills: Udemy
Udemy focuses on teaching computer and technical skills for a variety of industries. While you're unlikely to learn a hands-on trade on Udemy, it does offer a wide range of courses on the digital side of construction. 
The platform currently boasts more than 200,000 online video courses. Headquartered in San Francisco, it was launched in 2010 by Eren Bali, Oktay Caglar and Gagan Biyani. 
 Udemy is a great starting point if you're interested in a career that deals more with the digital and administrative aspects of construction. For example, Udemy currently features more than 30 courses on Building Information Modeling (BIM Udemy course), a revolutionary design tool that is essential to one of the most exciting new career fields in the world of construction.  
Here are some others stand-outs from Udemy: 
Courses on Udemy can cost as little as $10 and as much as $200, depending on the course. 
Best free platform: YouTube
There's no greater place to begin your education in the skilled trades than good old YouTube University. 
Okay, so this one may be a tad obvious, but YouTube truly is an incredible resource for anyone looking to learn a new skill. 
Sure, it doesn't offer certifications, but if you're not concerned about how your resume looks and aim to learn some meaningful real-world experience on the fly, YouTube can be a great entry point to the skilled trades. 
Here are some of our favorite channels: 
This is just a small selection; there are hundreds, if not thousands of videos on YouTube dedicated to the skilled trades.  
Bottom Line 
The internet is a lot of not-so-great things, but one thing it excels at is teaching. There's a wealth of fantastic educational content at our fingertips that only a generation ago we could have only found in the pages of books or trade magazines.  
While there's no substitute for official training and real-world experience, it's easy to forget that learning new skills should be fun, not scary. Hopefully, with the simple and affordable resources we've provided, you can begin to winnow out the signal from the noise and start training for your new career in construction.