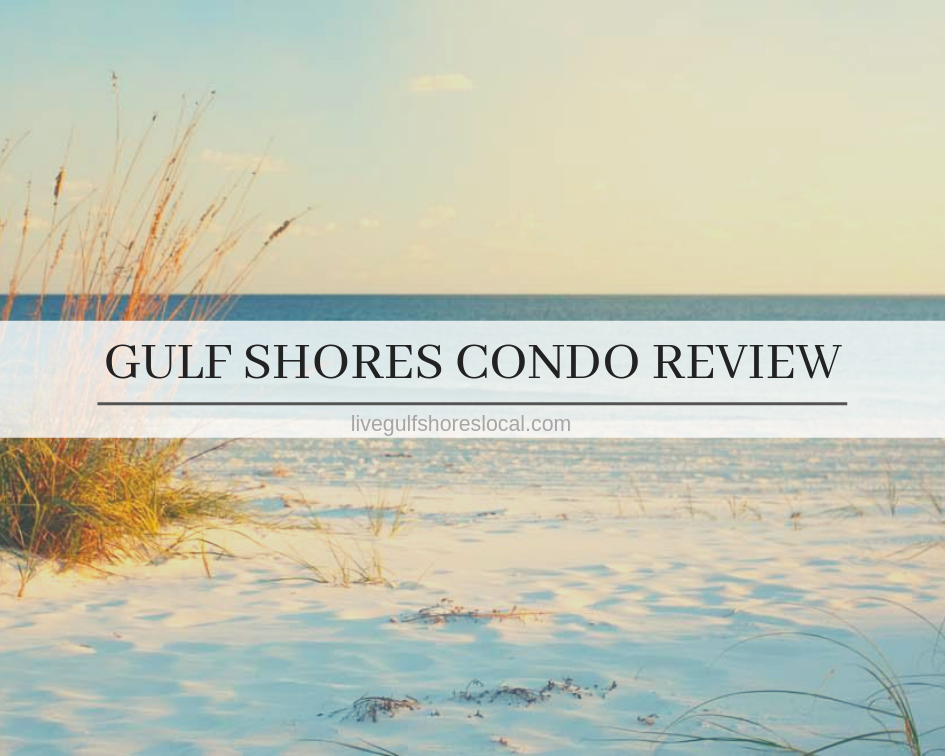 Here you'll find the most up to date information on condos that have sold in Gulf Shores in the last 30 days and those that are currently on the market.  This is great information whether you are buying a condo as an investment, a second home, or a full time residence.
Please give me a call if you have any interest at buying at the beach or have any questions.  I'm here to help!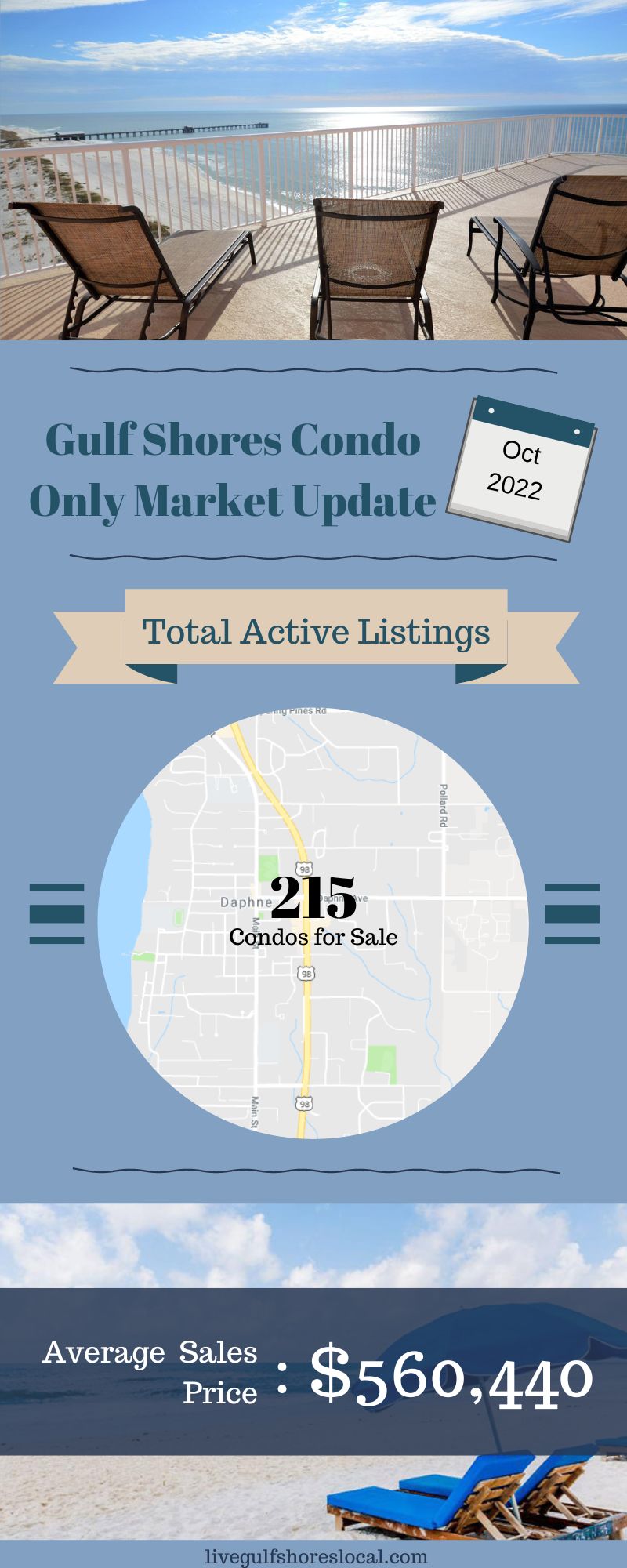 STATISTICS FOR GULF SHORES CONDOS CURRENTLY ON THE MARKET:
215 condos for sale
Highest price – $2,050,000
Lowest price – $215,000
Average price – $560,440
Median price – $452,000
Price per foot – $490
Largest – 3,970 square feet
Smallest – 420 square feet
Average size – 1,187 square feet
Days on the market – 86
Most of my clients are looking to invest here and capitalize on the massive amounts of tourists who come to our beach every year.  However, whatever your need is, I can help.  Check out the links below to find the available condos in your price range.
ALL GULF SHORES CONDOS FOR SALE BY PRICE
$100,000 to $200,000 – $200,000 to $300,000 – $300,000 to $400,000
$400,000 to $500,000 – $500,000 to $600,000 – $600,000 to $1,000,000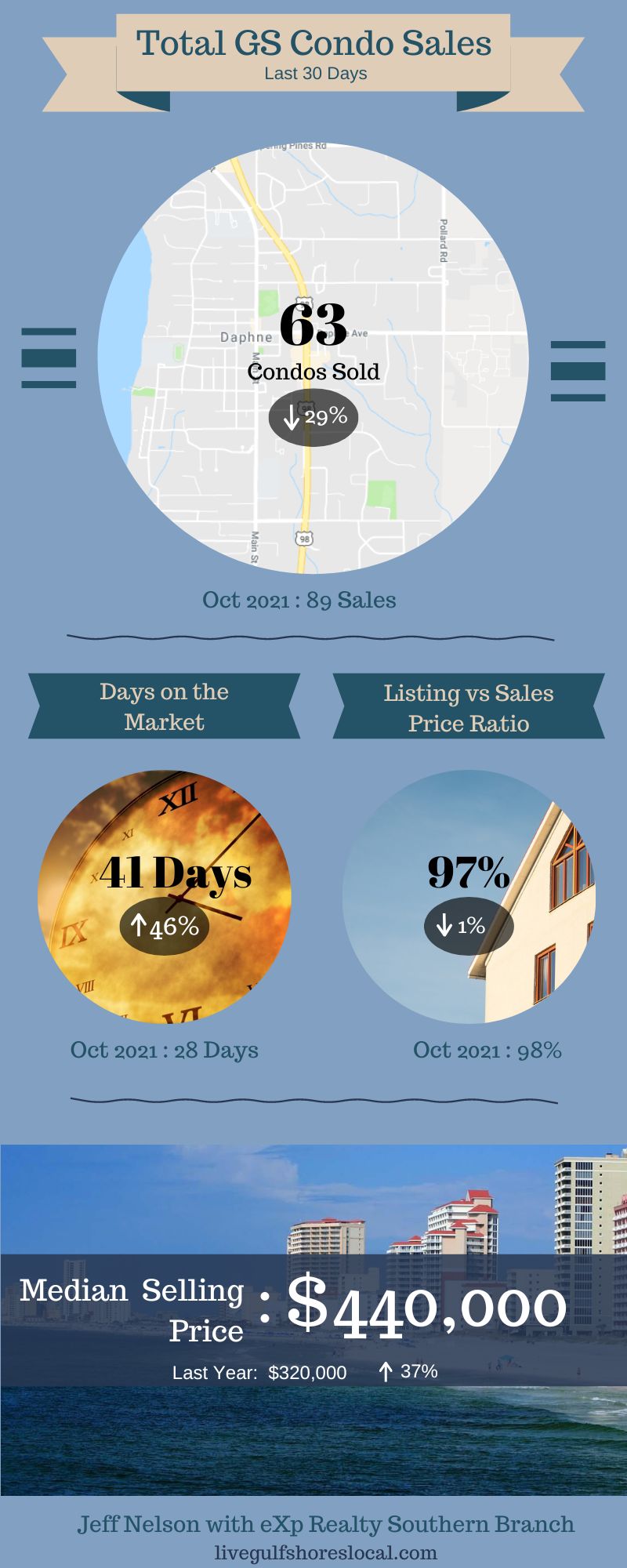 Even though interest rates are high, the Gulf Shores condo market is still doing great with 63 condos selling in the last 30 days.  That's a strong market for an area this size and at this time of year!
HERE ARE THE STATS FOR GULF SHORES CONDOS THAT HAVE SOLD IN MARCH:
63 condos sold
Highest price – $1,085,000
Lowest price – $175,000
Average price – $472,651
Median price – $451,000
Largest – 3,500 square feet
Smallest – 485 square feet
Average size – 1,043 square feet
Price per foot – $476
Days on the market – 41
Listing to selling price ratio – 97%
If you're thinking about investing, the best "bang for your buck" will be a condo with a southern view of the Gulf.  In this best case scenario, prices will start in the low $450k's.  If you're budget doesn't allow for this, there is a market for all price ranges, including condos that sit a few blocks from the beach. 
Get with me personally to discuss your needs for an investment purchase.
As you all probably know, prices here in Gulf Shores have really gone up over the past couple of years but we are seeing them level off for sure.  Get with me to run the numbers on any unit that interest you.

YOUR GULF SHORES CONDO SEARCH
In addition to searching for condos by price above, the link below will highlight just about every condo community in Gulf Shores.
Condo Communities – Find links to almost every complex in town with small description, community information, and condos that are for sale.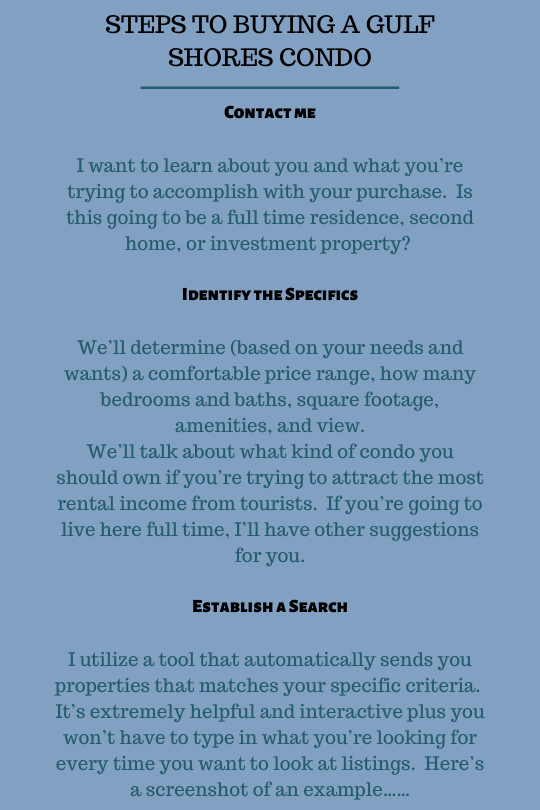 I'll create a saved search for you with your own dedicated page so you don't have to input the information in every time you would like to look at properties.  Here's a screenshot of what it looks like: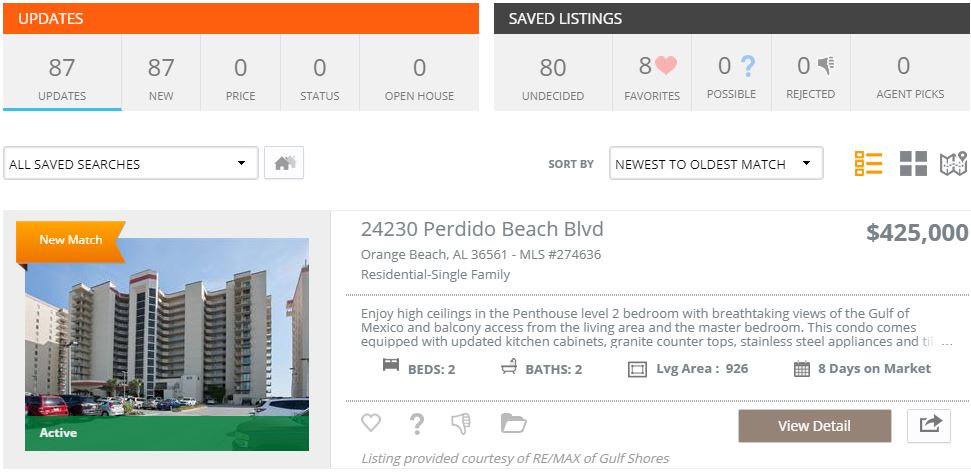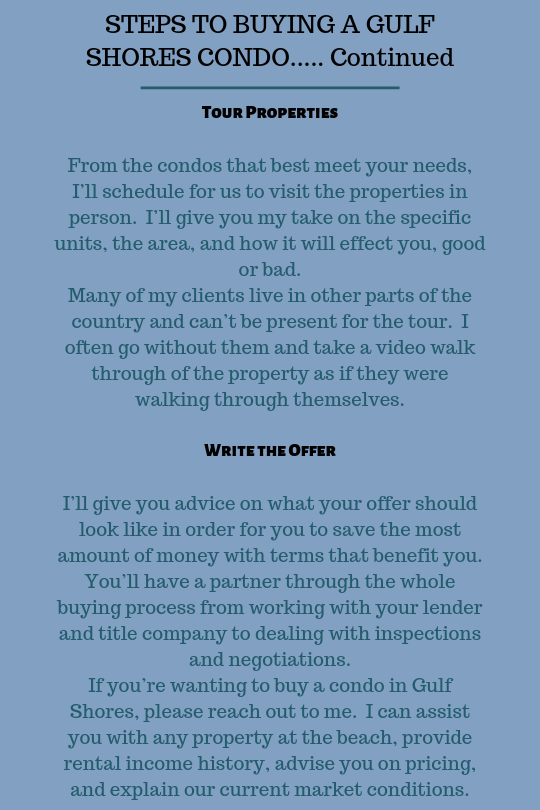 Condos Sold Last Month
Here are the exact condos that sold in Gulf Shores over the last 30 days.  There are 63 of them.  Understand, this does not include condos in Orange Beach or single family homes.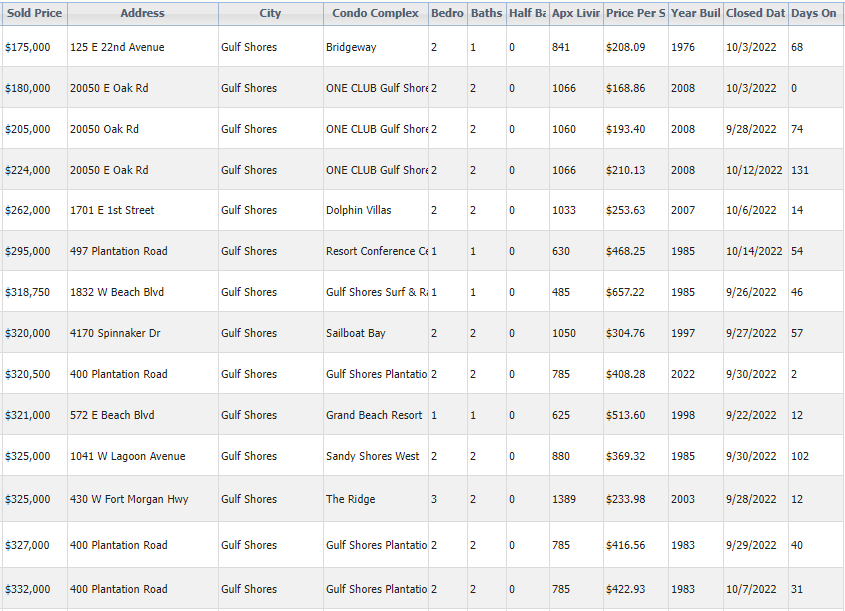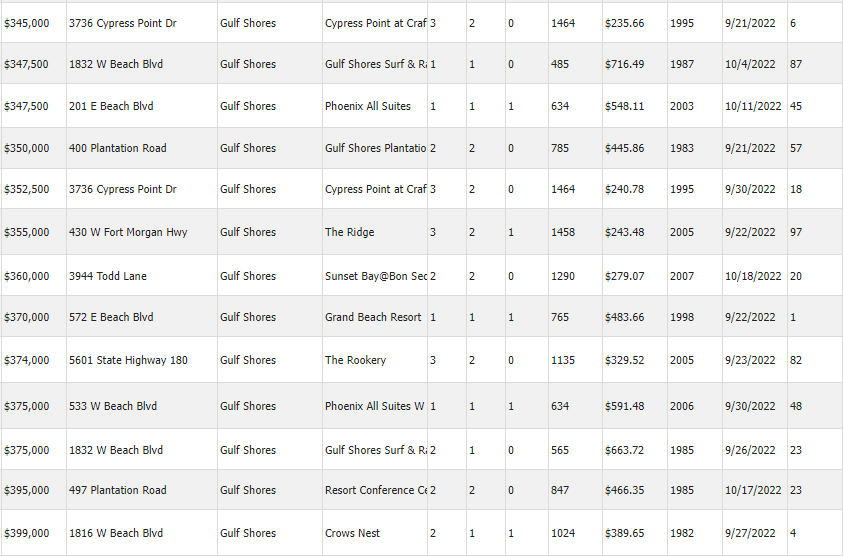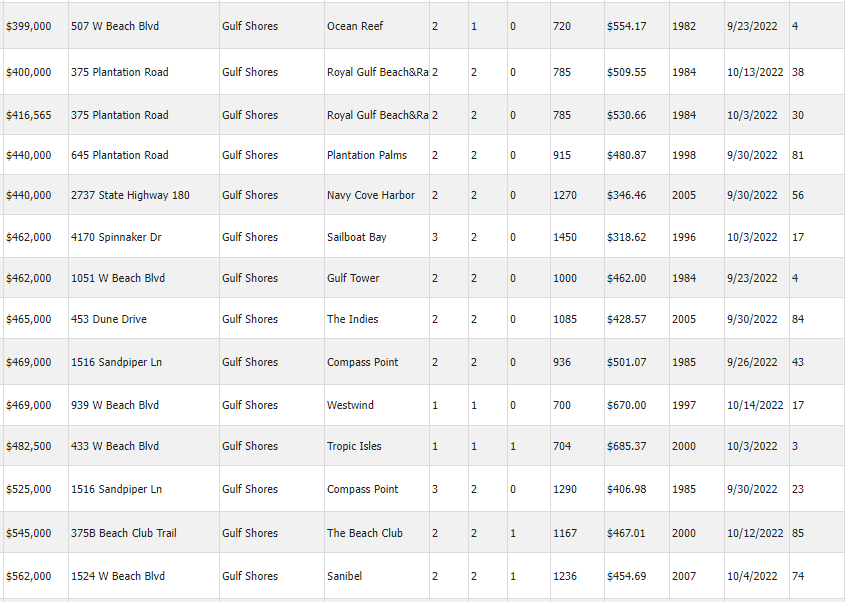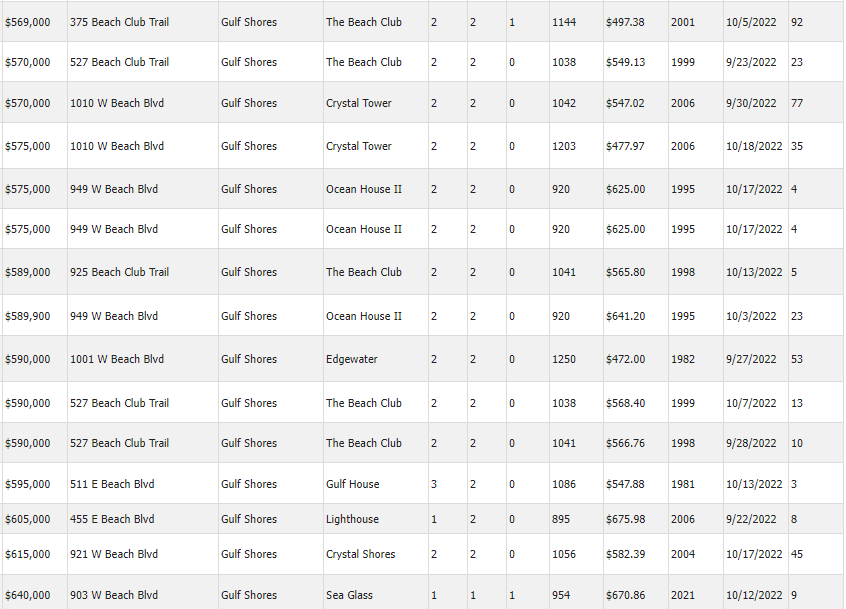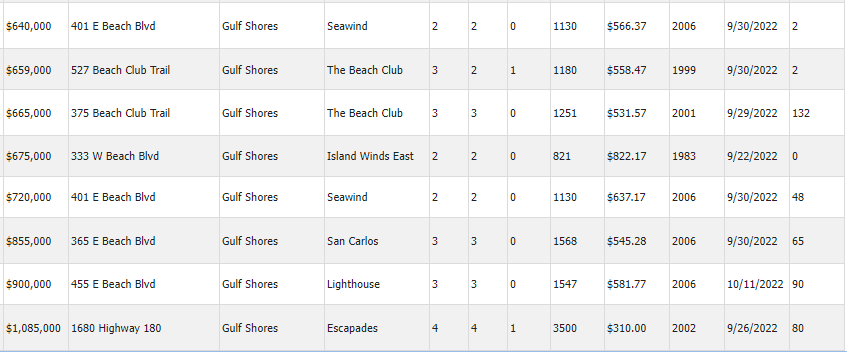 BUYING OR SELLING A CONDO IN GULF SHORES?  CALL/TEXT/EMAIL TODAY!
Be sure to check this link out if you want to sell your condo – 4.5% Reasonable Commission.