When most people think about a pole barn, they think of a rectangle with two cupolas (small squares on the roof, typically with a weather vane). This classic American look has been around for centuries, but do you need a cupola on your post-frame building?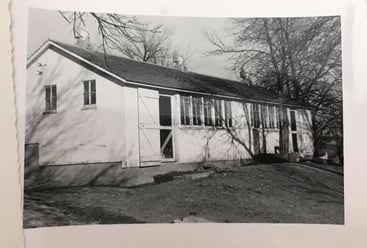 I lived on my family's century farm a few years ago. I did what most women do when they see baby chicks on sale; I bought a box of 50 chicks and brought them home. Quickly I realized the barn I had planned to put them in needed work. 
Our farm had a large 20′ x 40′ chicken coop that needed new windows, skin, and roof. We hired a local builder (as FBi wasn't in Iowa then). If you think your pole barn needs repairs, FBi does offer repair and renovation services!
During the renovation process, the local builder removed the two cupolas. I thought they had so much character. I didn't understand why they removed these if they had been on the barn before. 
The coop had three doors and eight windows that provided passive ventilation.
Passive ventilation is when the building gets ventilated through open windows, doors, and general movement. 
There are several ways to ventilate a pole building, but cupolas are typically just for decoration. However, in some instances, they are still used for ventilation.
This article will discuss five details to consider if a cupola is right for your post-frame building.
1) Decoration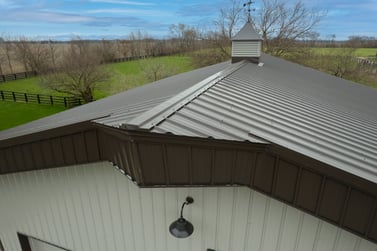 Many of our hobby pole barns, equestrian pole barns, barndominium homes with a shop, and agriculture shops
have cupolas. They tend to have weathervanes ranging from a sailboat, horse, chicken, cow, truck, or you name it.
Weathervane styles are unending and allow you to personalize and add personality to your pole building. 
The cupola gives your pole barn that classic all-American farmstead look. Some customers add them to match other pole barns on their property, while others do it for the overall look. 
2) Material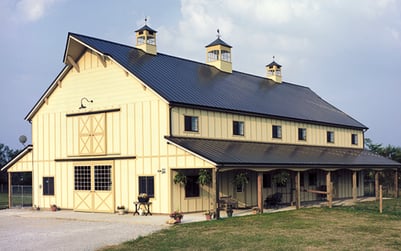 The material for cupolas can vary. They can be made from fiberglass, metal, or wood. They range from plastic, metal, shingled, and copper roofs. They also can have windows. Personally, that's my favorite look.
You must select the cupola material as soon as possible since some need to be specially made. Therefore, avoid delays in your construction timeline by choosing the right cupola for your project earlier rather than later.
Cupolas add a beautiful look to pole barns! Check out some of our customer's projects here.
3) Size of Cupola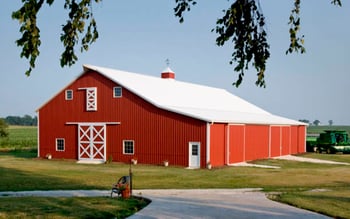 Cupolas are available in a variety of styles and sizes. Standard dimensions include 24", 36", or 48" bases, but they can be as big as 66". 36″ is the most common size, but 48″ cupolas are used fairly often, especially on larger post-frame buildings.
The cupola is essential. You want to ensure that it won't be too big or too small for your pole barn . 
Check out our design your own feature. This tool allows you to design your own pole barn. It's a great way to start your building design, and your Project Sales Consultant can help you select the correct size. 
4) Number of Cupolas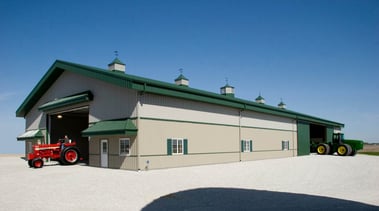 Be careful not to get carried away. Too much of a good thing can look overwhelming. But, on the other hand, just one may not add enough character to your barn. 
Typically a pole barn building will have two to three cupolas, depending on the size of the building looks best.
5) Cost of Adding a Cupola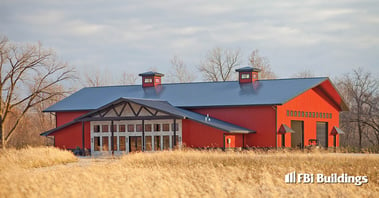 So you're convinced your building needs that all-American farmstead look, but how much will it cost? 
As of October 2022, adding a 36″ or 48″ cupola would cost anywhere from $1,500 to $3,000 each. 
Pricing can vary depending on the size, weathervane, and functionality. They are also available with glass on the sides, which can add up to $1,200 in additional cost.
Cupolas Are Not Necessary, but the Aesthetic They Add to Your Barn Is Unmatched
The short answer is no. Your pole barn does not need a cupola. In some instances, like equine, they can help reduce moisture from manure. 
Other times people may install a fan system inside the cupola to add ventilation, but some problems come with that. Finally, some may utilize glass cupolas to add light to their barn.
If you decide to add a cupola to your building project, consider the size, style, material, number of cupolas, and budget. 
---
Have more questions about pole barn trusses not covered in this article? Please contact FBi Buildings at 1.800.552.2981 or click here to email us. If you are ready to get a price, click here to request a quote, and a sales team member will call you.